Are you looking to make a backyard zen retreat? One of the most common requests for backyard landscaping services is to beautify a property, but what does that mean? It means having an elaborate landscape with lush foliage and blooming flowers for some people. 
It means having a few well-placed plants in an otherwise bare yard for others. No matter your definition, there are many ways you can have your yard look it's absolute best without breaking the bank or taking too much time out of your busy schedule.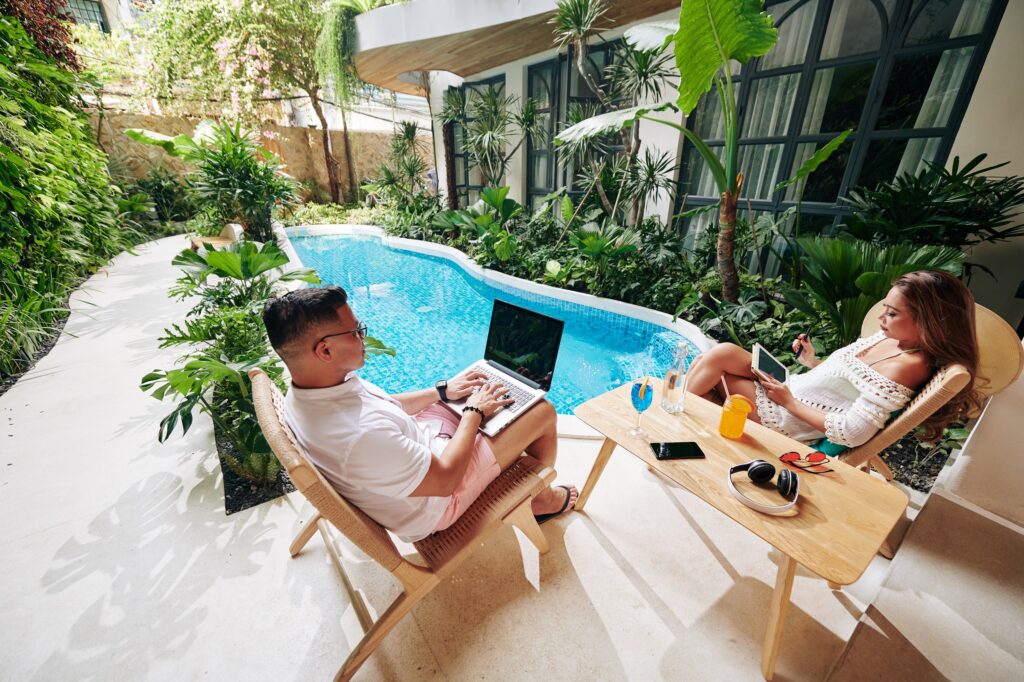 10 Ways To Make Your Backyard A Zen Retreat
1. Install A Rain Barrel
Water is one of the essential elements of a Zen backyard retreat. Install a rain barrel to capture rainfall and store it in your backyard for use in your garden or fountains.
2. Plant A Garden
Create an oasis in your backyard with a garden featuring colorful flowers and healthy vegetables. Choose plants that will thrive in your climate and add beneficial insects to help control pests.
3. Create A Relaxing Seating Area
Create a seating area in your backyard that offers a shady spot to relax and enjoy the views. Choose comfortable furniture and add plants that provide privacy and cooling relief.
4. Hang A Hammock 
Hang a hammock in your backyard to enjoy the views while relaxing or taking a nap. Add some mosquito repellent if necessary to keep you free from pesky bugs.
5. Install A Solar Panel 
Install a solar panel in your backyard to generate electricity for your home or garden. This simple project can save you money on your monthly bills, and it is an easy way to add green energy to your backyard retreat!
6. Build A Fire Pit 
Build a fire pit in your backyard to enjoy iced drinks and grilling during the warm summer months. It's also a great way to add seating, enjoy outdoor movies, or relax with your friends.
7. Install A Gazebo 
Install a gazebo in your backyard to kick up the fun factor. Add some fresh flowers, plants, or even a swing for fun!
8. Build A Deck 
Build yourself a new deck in your backyard, and create an outdoor space you can use year-round. You can open it up to invite friends for a relaxing weekend getaway or close it off for nighttime entertaining.
9. Install A Pool
Install a pool in your backyard and enjoy the water's coolness! Several companies out there know how to build a pool, so you can pick one that fits your space perfectly.
10. Add Space For Storage 
Add storage for outdoor gear, home goods, and more using storage sheds and equipment racks out of metal or wood. These structures can be built on your property without disturbing anything else.
10 Things To Plant In Your Yard
1. Salvia
Salvia is a perfect plant for the backyard because it can grow in nearly any soil type, but it is not difficult to care for. It has small leaves that are easy to wash and maintain in your home. 
If a leaf starts to brown, you can just cut it off with scissors and throw it away. Salvia also flowers every month between June and September, making them a beautiful addition to your garden.
2. Lavender
Lavender is a great plant to use in your garden because it's resilient and low-maintenance. It's also a medicinal plant, which means you can harvest leaves, flowers, or oil for cooking. Lavender grows best in full sunlight and loves damp soil and cool weather.
3. Mint
Mint is an excellent plant for your backyard. It's invigorating in the morning and calming in the evening, meaning it can be used to wake you up or help you sleep. Mint also has a pleasant aroma that will make the whole area smell amazing. Mint leaves are great for making tea and countless other uses, so it's a perfect addition to any garden.
4. Oregano
Oregano is one of the most versatile plants that can help with many home remedies. It can combat harmful bacteria, prevent odors, kill viruses, and fight insect pests. Oregano is also good to add to your garden because it works well in moist environments and doesn't need much sunlight or water.
5. Sage
Sage plants are known for their ability to purify the air. They also help to stabilize soil and prevent erosion. The leaves of these plants have a very high content of silica that is great for the skin and fighting infections. 
People often use sage leaves in tea or tincture tea because it can have medicinal properties that help with headaches and stress relief.
6. Chamomile
Chamomile is a flower that many people have used for its calming and anti-inflammatory qualities. It can also help relieve anxiety and depression. The plant can be grown quickly and is relatively low maintenance.
7. Fennel
Fennel has a beautiful yellow flower with a star-shaped pattern. It's also one of the hardiest plants in terms of cold weather tolerance. Fennel is excellent to grow in your backyard because it can grow 6-8 feet tall and require little maintenance.
8. Peony
Peonies are one of the best plants for a backyard. They have many different flower colors that can last all through the summer. They also change their shape depending on how much sunlight they're receiving. Peonies produce many flowers and are easy to care for, so it's very low maintenance.
Enjoying Your Backyard
We all need a break from the hustle and bustle of everyday life, and a backyard retreat can be just what the doctor ordered. 
1. Have A Garden
If you love spending time in nature, then a garden is a great way. You can grow your own vegetables and fruits.
2. Relax In The Yard
If you want to get closer to nature but don't have a lot of space, relax in your yard. Take a picnic lunch or breakfast and enjoy the quiet sounds of nature around you.
3. Listen To Music
There's nothing like relaxing with some classical music in the background. Choose music that reflects your mood and listen to it while taking a break from the world.
4. Workout In Your Backyard
Take advantage of a great sunny day and workout in your yard doing various exercises. Enjoy the outdoors and let it be motivation to have a great workout.
5. Play With Your Pet Dogs Or Cats
If you have pets, spend time playing with them on those lazy days. Reward them for good behavior and hang out with them for at least an hour.