Are you wondering how to choose the right contract for getting a new roof? If you are looking to get a new roof on your house, it's essential to understand the process and know what options you have. This article provides tips for contractors and helpful information about choosing a contractor.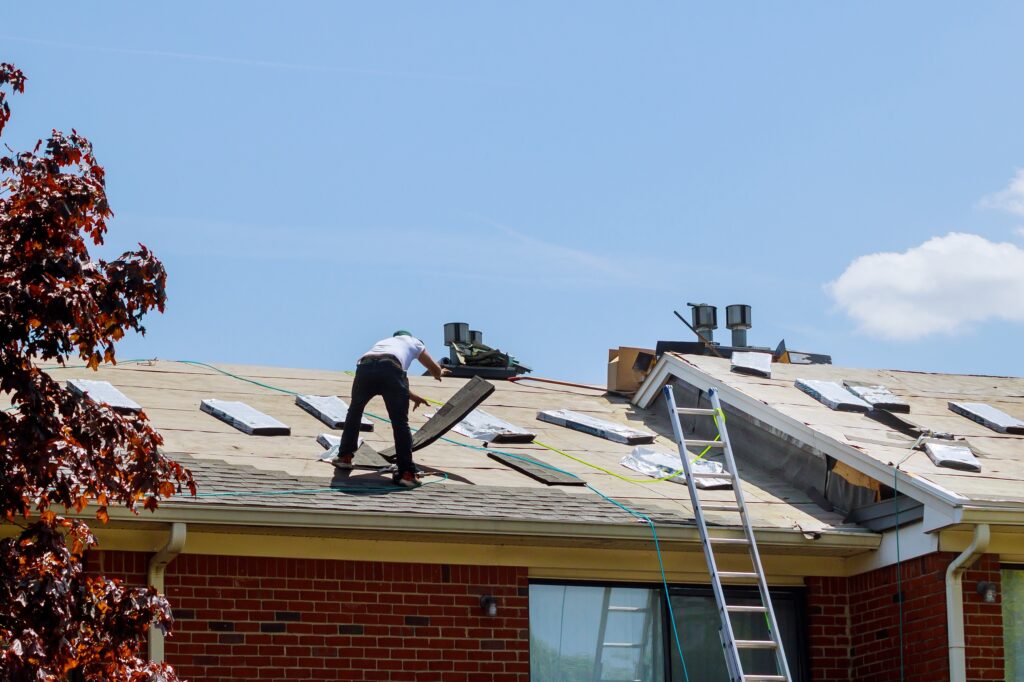 Steps To Getting A New Roof
1. Ask around. 
Talk to friends, family, and neighbors who have had work done by contractors they know and trust. They can give you valuable feedback to help you make an informed decision.
2. Get a home inspection. 
A home inspection will help you identify any potential problems with the roof, such as leaks or defects in the framing. If there are any issues, it will be much easier to negotiate with the contractor if they know about them ahead of time.
3. Stick to a budget. 
Don't get swayed by high-priced quotes that seem too good to be true. Instead, try to find a contractor who offers reasonable rates for the quality of work they provide.
4. Ask for references. 
Ask for references before hiring the contractor, and check their credentials carefully. It's also a good idea to ask the references if they have had any problems with the contractor in the past.
Do Your Research
When you are looking to have a new roof installed, it is important to do your research on the available contractors. Make sure you get a contractor who has experience installing roofs and has been in business for a long time. 
Here are some tips to help you choose the right contractor:
1. Check out the contractor's website. 
Review their portfolio of work and see if they have any testimonials from previous customers.
2. Get a written estimate. 
Before you sign any contract, get a written estimate from the contractor outlining all of the costs associated with installing your new roof. It will help you understand precisely what you are paying for and help protect you from any unexpected costs down the road.
Know The Price Range You Are Willing To Spend
When choosing a contractor for a new roof, price is always a factor to consider. Here are some tips to help you determine the right contractor for your needs: 
-Begin by estimating the cost of materials and labor required for a new roof. It will help you understand what ballpark figure you are looking at. 
-Consider the type of roof you want. For example, a traditional pitched roof will require more labor than a flat roof. 
-Be sure to ask your contractor about their specific experience and qualifications in installing roofs. Some contractors may only be able to complete certain types of roofs. 
-Be realistic about the time frame in which you want your new roof installed. Some contractors may be able to get started sooner, while others may need more time due to the complexity of your project. 
-Be prepared to negotiate prices with your contractor. No one price applies to all roofs, so be ready to haggle until you find a deal that works for both parties.
What's Included With The Price Of The Contractor?
When you're looking to hire a contractor to install a new roof, the project's cost can significantly influence your decision. However, not all contractors offer the same price for their services. 
Some may charge more for their labor than others, and some may also offer additional services (like insulation or flashing) that are added to the price of the job. 
Below, we'll outline what you should expect to pay for different types of contractors and how to choose the right one for your needs.
1. Labor: 
The average cost of labor for a contractor installing a new roof is around $2,000-$3,000. It includes both the professional installer and any additional materials (like tarps) that are needed during the installation process. 
2. Material Costs: 
Aside from labor costs, material costs can also be high for homeowners when hiring a contractor to install a new roof. For example, waterproofing membranes and metal roofing can often cost between $1,000 and $2,500 per square foot. 
3. Equipment Costs: 
Contractors often require special equipment (like ladders or buckets) when installing roofs, adding extra costs.
Do You Need A Warranty?
When choosing a contractor for a new roof, there are a few things you should keep in mind. For one, make sure you get a warranty on the work. It will protect you in case there are any problems with the installation. 
Additionally, ask your contractor about their experience and whether they have done similar work before. Finally, be sure to inspect the completed job to make sure it meets your expectations.
How Long Will It Take To Complete?
If you're looking for a contractor to install a new roof, you'll want to know how long it will take. Here are some factors to consider: the size of the project, the type of roofing material, and the contractor's experience. 
Size of Project: 
If your roof is relatively small in size, a contractor with basic roofing skills may be able to complete the job in a day or two. However, if your roof is more extensive or has more complicated features, expect the project to take longer.
Type of Roofing Material: 
Many types of roofs can have different installation times depending on the material used. For example, asphalt shingles may take longer than metal or tile roofs because they need to be installed in layers.
Experience: 
One of the most important factors when choosing a contractor is whether they have experience working on similar projects. If you're not sure whether a particular contractor has experience with your type of roofing material, ask them directly.
Should You Get Estimates or Hire Them Immediately?
Many homeowners are torn between estimates and hiring a contractor right away when getting a new roof. Here's a guide on choosing which route is best for you. 
If you're unsure about the size or complexity of the project, getting an estimate is a good idea. An estimator will walk you through your options and give you an accurate cost for the work. If you decide to go with someone else, be sure to get their contact information if there are any problems later on. 
If you only have a rough idea of what you need and don't want to spend time getting estimates, hiring the contractor right away can be a better option. However, be prepared for difficulties down the road. Hiring someone without first checking references can lead to problems with quality work or delays. Make sure to do your research before making a decision.
Make Sure They're Licensed To Complete This Task
When you're ready to get a new roof, make sure you choose a licensed and insured contractor to complete the task. Licensed contractors have undergone rigorous training and are familiar with the proper procedures for installing a new roof. They also have insurance in case something goes wrong. On the other hand, unlicensed contractors may not have the necessary qualifications or insurance.