We all love the beach, and today we've got some incredible beach themed bathroom decor ideas to share with you. If you enjoy spending time at the beach, it may be fun to decorate your bathroom with some beach details.
You can use a nautical-themed shower curtain, add some seashells around the sink and toilet, and even paint your cabinets in light blue ocean color. These are just a few ways to decorate your bathroom with a beachy vibe.
Beach Wall Decor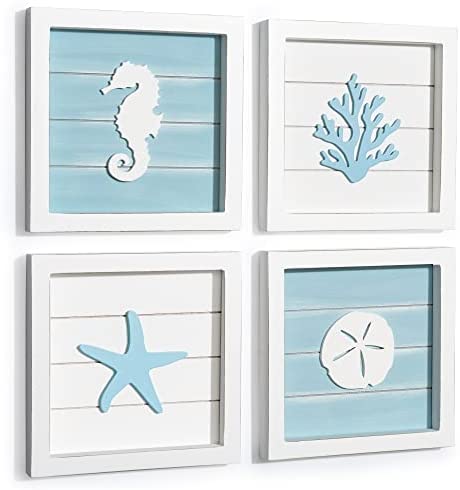 A fun way to decorate a bathroom is by using beach-themed wall decor. You can use seashells, starfish, and other ocean items as decorations. 
Seashells are a popular decoration for a beach-themed bathroom. Many different types of seashells can be used in your home decor. They come in various sizes and shapes, so you can choose one that fits your design needs. 
You can use seashells as decorations on their own or by grouping them with other coral-inspired decorations for a complete look.
Bathroom Mats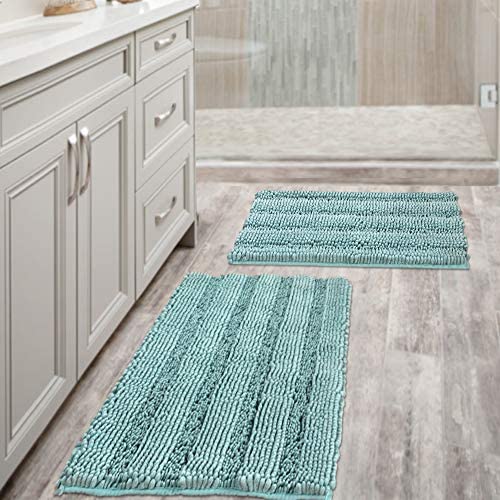 Add a beach theme to your bathroom by adding shaggy blue mats with a textured surface. These mats will make it feel like you're walking on the sand while entering the bathroom.
Beach-themed bathroom decor can be challenging to find, but there are many different mats for showers and in front of sinks that can help create the perfect beach feeling. 
Many of these mats have a non-slip surface, so you don't have to worry about moving around and your feet slipping. They are usually made from very durable materials that won't easily tear or wear out.
Beach Themed Wall Clock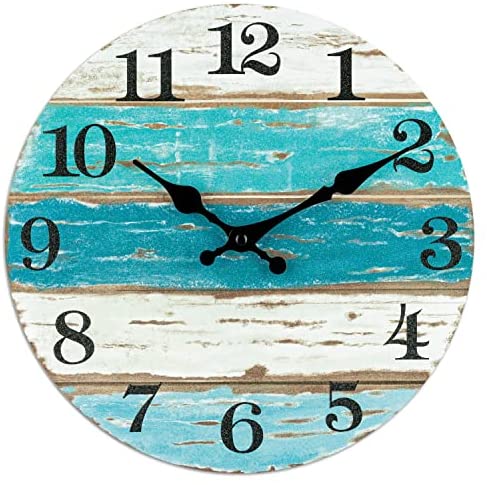 The beach is a fun, laid-back place to visit. To bring this feeling into your bathroom, you can use many simple things like a clock with a nautical theme or the color blue. 
Beach clocks are a great way to add some character to your bathroom decor. You can find these clocks in many different styles, so you're sure to find one that matches the style of your bathroom. 
Most beach clocks can display either the 12 or 24-hour time, and many even come with an alarm function for waking up in the morning.
Hanging Beach Wall Signs
There are many ways to add a beach theme to a bathroom. One way is to hang up signs with sayings or quotes from the beach. Putting beach wall hanging posters in a bathroom can help maintain a beach theme. 
Signs like "Welcome to the Beach," "Beach Please," and "The Beach Never Closes" are all fun signs that would fit nicely into a beach-themed bathroom. These signs also make great gifts for friends and family that love the beach.
Bathroom Beach Accessories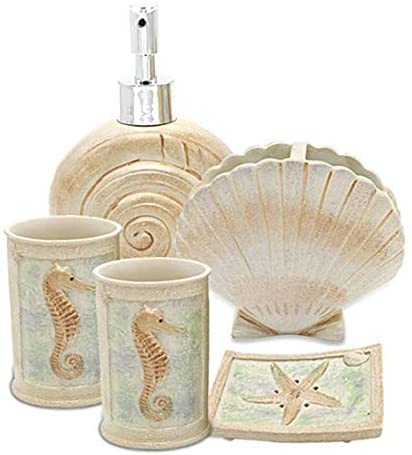 Bathroom accessories can be as simple as adding a rubber duck or seashells to the corner of your shower. You can also add beach-themed décor to the rest of your bathroom, like a toothbrush holder that looks like a giant seashell. 
You may want to hang a nautical-themed towel rack on one of your walls. Another idea would be to add a glass shower door that looks like waves crashing on the shore. You can also get some fun soap dispensers that look like life preservers or a toilet paper holder that is shaped like a sandcastle.
Beach Towels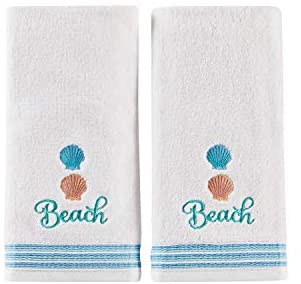 A great way to promote a beach theme in your bathroom is to decorate it with towels. Towels are the most commonly used in bathrooms, so they should be a perfect addition. It may be worth getting beach-themed towels to match if you have a bath mat. 
You can also buy extra-large bath sheets for the shower or tub. These can also be tropical-themed or animal print, if you prefer.
Beach Themed Shower Curtains
Shower curtains are one of the most popular ways to bring a beach theme into any bathroom. While there are many different types to choose from, the best ones will have a sand-colored pattern and a beach ball as the focal point. They also come in many different sizes to find the perfect fit for your shower or tub.
Many different designs and textures can be used, including seashells, sand, ocean waves, and fish. They are also available in single or double designs, depending on the size of the shower. 
Beach Themed Anchors and Ship Wheels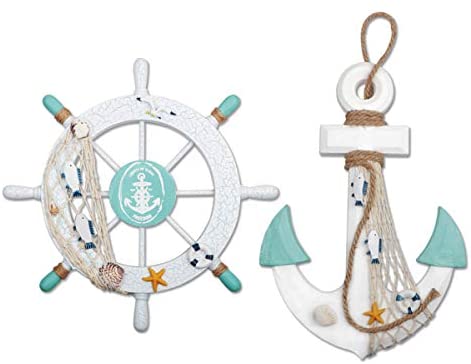 The anchor is a symbol of safety and security that can be used to maintain your beach theme. They will be perfect for decorating walls, shelving units, hooks, or towel bars. Hooks can hang towels from the anchors, or you can use them to display other objects such as seashells. 
Ship wheels are a great way to bring nautical vibes into the bathroom of a beach-themed home. They are typically made of wood but can also be found in metal. These ship wheels can be attached to any bathroom wall for an easy coastal look.
Beach Theme Painting and Wall Decor
Your bathroom is an excellent place to bring the beach into your life. Painting a seascape on the wall will instantly create a coastal atmosphere.
Beach themes are typically cheerful and relaxing, making them perfect for the bathroom. You can find beach paintings in many different stores or buy them online. You can also paint your artwork to add to the theme of your bathroom.
Beach Themed Floating Shelves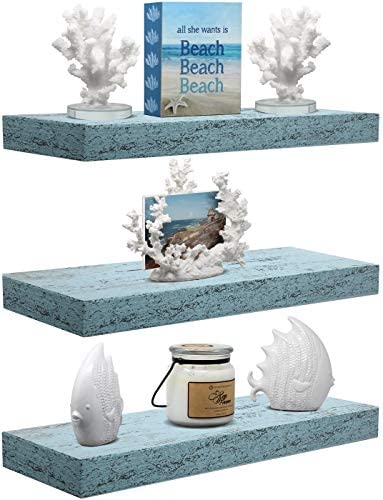 Floating shelves provide much-needed storage in any space, and they also create a beach theme in a bathroom with the help of some seashells and starfish. A light blue color on the walls can mimic water and make this bathroom feel connected to the ocean.
Bamboo shelves can be an attractive addition to a beach theme. They have a natural wood appearance, but they're made of eco-friendly bamboo, sustainable and versatile. One way to take advantage of these shelves is to mount them on the wall around a mirror. 
This will create a generous storage space for small yet essential items like soap, toothpaste, and toiletries. You can also use some of those shelves to display your favorite seashells or nautical decor that reflects your personality or interests.
Final Thoughts On Beach Themed Bathroom Decor Ideas
I hope you were able to find some inspiration from our beach themed bathroom decor ideas. There are so many great accessories that can turn any bathroom into a relaxing beach getaway. Bathroom decorating is a lot of fun, and the possibilities are endless.