Color! What would life be without color? Let's take a look on the best ways to add color to the decor of your home. Color is the heart of creativity, and it can do wonders for your home. There are many ways to add color to your home, but this article will focus on a simple and affordable few.
Adding color to your home is an excellent way to bring life into a room and make it feel more welcoming. While there are many ways you can give your home's decor a pop of color, like art or colorful pillows, today we're going to look at the best items for adding some color to your living space!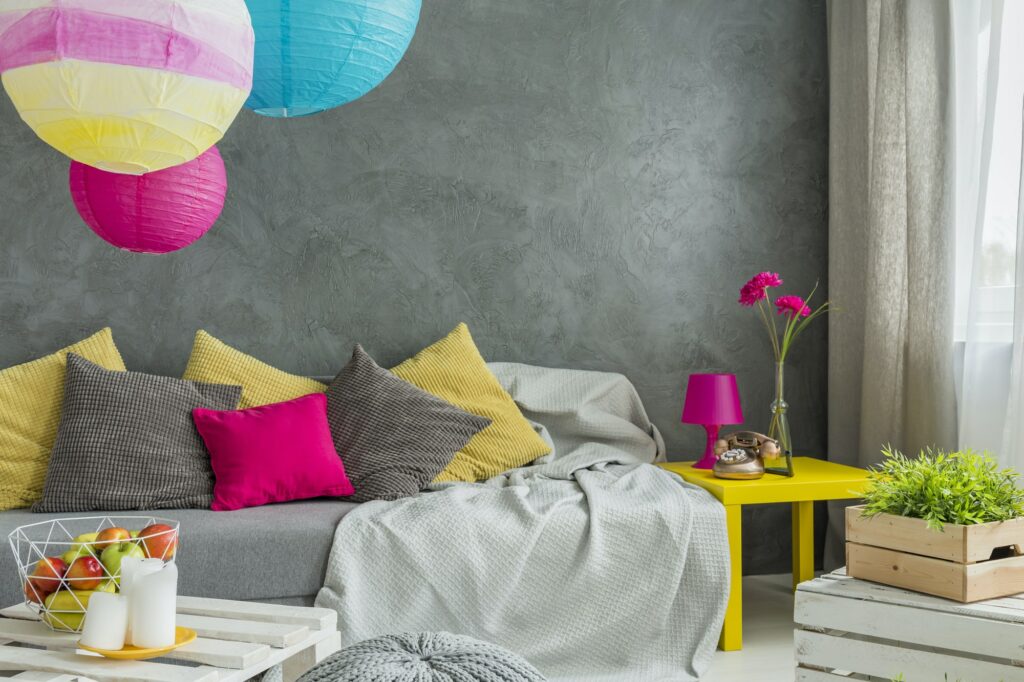 Colorful Rug
When considering floor coverings for any space in the home, a rug is a great idea. It provides comfort and warmth underfoot, but it can also add color, texture, and pattern to the room. For example, a patterned or brightly colored rug can help tie an elegant space with dazzling accessories.
Many people like to add color to their homes by using brightly colored rugs on the floor. A rug that adds a pop of color is a great way to liven up any room. Rugs come in all shapes, sizes, and colors. There's something for everyone, from traditional Persian rugs to more modern styles.
The best way is to start with a neutral base color for your room and then get a rug that is two shades brighter than the base color. For example, if you have a white couch, you could get a light blue rug for the living room.
Bright Accessories
If you are looking to add color to your home's decor, you first need to decide what colors you want. Once you know this, you can start with the most significant pieces like couches and carpets and then move on to more minor things like accessories. 
You can use bright accessories or colorful furnishings on tables and shelves. It is a great way to add color without it being overwhelming.
An excellent way to do this is to hang colorful pictures or paintings on the walls. You could also use colorful tablecloths for entertaining, colorful bedding for the bedroom, or brightly-colored curtains in the living room.
Flowers and Plants
Flowers and plants are a great way to add color to your home's decor. They are inexpensive and can change the mood of a room. They also help clean the air. People find flowers to be a great way to bring cheer into their lives.
Adding flowers and plants also gives the home more flair. If you're looking for something simpler, a vase or bowl filled with cotton balls can also add some color to your home.
You can put them in pots, planters, or window boxes. If you want to use something a little more permanent and ornate, several species of bromeliads can be used as tabletop decorations. Consider adding some succulents or cacti for an exotic touch.
Saturated Textile
Saturated textiles are those that have vibrant colors and bold patterns. There are so many ways to add some color to your decor. You can place a colorful rug on the floor, hang colorful pillows on the couch, or use a colorful throw blanket as an accent piece.
Something as simple as a throw blanket can make a difference in how your home looks. If you're looking for bright colors that add depth to the decor, then a woven textile is ideal. This type of fabric has vibrant color, which gives it more depth and character.
Patterned Accent
One way to add color to your home's decor is with a patterned accent. For example, you can use a decorative pillow that matches your furniture as an accent. 
You could also paint your walls in a bright, contrasting color that will make other colors stand out more. You can also use patterns in your artwork, tablecloth, and linens. Patterned accents will make your surroundings vibrant and exciting.
Statement Lighting
One of the best ways to change the feeling of an interior is with statement lighting. This lighting style is dramatic, with a light fixture in each room. 
The fixtures are usually chandeliers or pendant lighting that can be moved and arranged to suit any space. The best part about this type of lighting is that it can be easily changed when you want to switch up the decor; swap out the bulbs for ones in different colors or patterns.
Next, you'll want to choose the right lampshade color to coordinate with your decor. For instance, if you are trying to create an airy and open atmosphere, use golds, yellows, and whites. If you want a more soothing ambiance, use warm colors like tans and browns.
Bold Window Treatments
One of the easiest ways to add color to your home is with window treatments. These are one of the most important aspects of any room, as they provide privacy and can be used to block out light when needed. 
These come in various colors and styles, such as curtains, blinds, roman shades, and roller shades. They also come in many different patterns and prints, perfect for any interior design style. 
There are plenty of options to choose from for window treatments. For example, if you want a colorful look without the hassle of washing fabric and folding draperies each day, then vinyl panels are a great option.
You can do this by using bold window treatments that contrast with the walls and other furnishings in the room. A classic example would be using a light wood blind for a darker wall color. Alternatively, you could use dark wood blinds for light-colored walls.
Final Thoughts On Best Ways To Add Color To Your Decor
There are so many different ways to add color to the decor of your home. Whether you're looking for something bold or subtle, there's always a way to add a splash.